DK City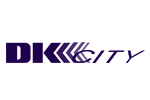 DK City Corporation, founded in 1987 has been venturing on the manufacturing of the products that intend to satisfy the common pursuits of mankind in leading a life style of health, happiness and longer life-expectancy.
DK City with its name originated from Dream Knitting City realizes that, wherever the city dwellers are, the dream of freely enjoying a life of health-and-fit, happiness and rejuvenation remains identical, which is the mission that DK City is committed to fulfill by innovating, designing and manufacturing not only technological but also environment-friendly products.
DK City builds a series of products that extended from high-end furniture, fitness equipment and massage chairs to the recreational electric-scooters and golf cars. It recently devotes tremendous amount of resources to the innovation of the electrical, pollution-free bicycles and motorcycles, all attempting to protect and preserve a piece of clean land for the next generations.
www.dkcity.com
Showing 1–18 of 29 results